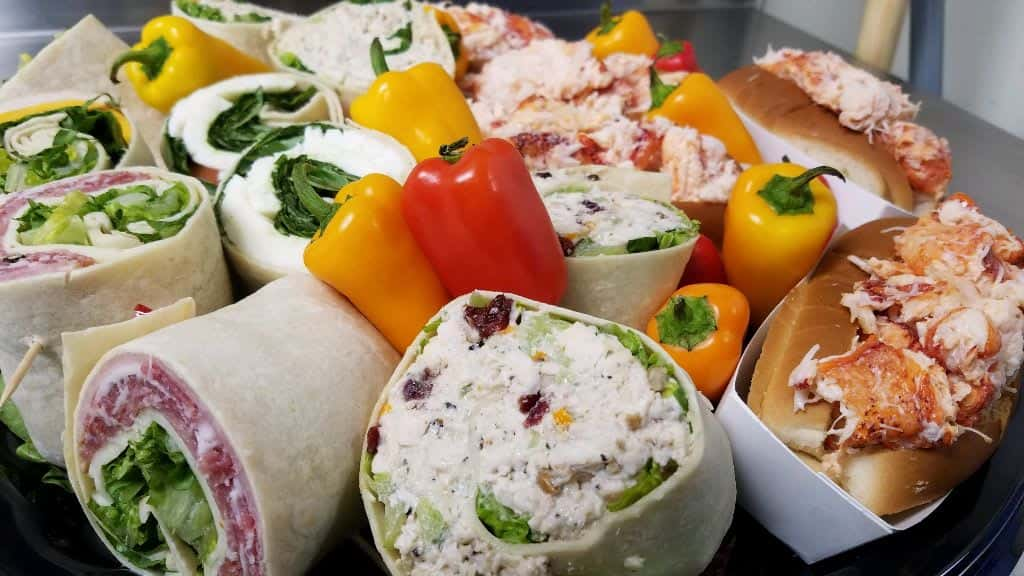 Catering Menu
For Your Next Event
Catering is available from Epping & Portsmouth locations.
Call Epping: 603-679-3200 or Portsmouth: 603-433-3339 to place your order.
8 hours notice required. Select delivery available.
Become a VIP
Receive updates on special events, new menu items, menu reviews, and more!
Catering Menu
Minis
An assortment of your choice of finger sandwiches served on a platter.
Soups/Chowders
Available by the quart (typically serves 3-5 people). Includes oyster crackers.
Salads
Priced per person. Served with your choice of dressing: Balsamic Vinaigrette, Ranch, Bleu Cheese, Caesar, Creamy Italian, Greek or Raspberry Vinaigrette.
Signature Sandwiches
Your choice of bread, roll or wrap. 
Breads: multi-grain, sourdough or marble rye.
Rolls: focaccia, ciabatta or bulky. Gluten free rolls are available.
Wraps: white or spinach.
The Lobster Fleet
Served with a small salad (House, Caesar or Greek), 5 bags of chips and choice of 5 cookies or brownies. Serves 5-10 people.
Sides
Homemade salads priced per person
Drinks
20 oz. bottles of Coca-Cola products available.
To Order
Please call the location closest to you (either Epping or Portsmouth) and we will help you cater your event from menu selection and dietary advice to delivery.
24-hour notice is required. Delivery service may be available for an additional fee. Please call the location closest to you for further information. We require an 8-hour cancellation notice on all orders. Orders not cancelled by this time may be charged. Prices exclude tax. Menu & prices are subject to change. Last minute orders may be accommodated. Additional menu items may be available upon request.